The Waly Wag bag features a webbed fabric strap with a tight fit snap to securely attach to either your dog's leash handle, retractable leash, leash D-ring or an adjustable cross body strap. This bag features two D-rings that offer versatile uses, including attaching our optional cross body strap and your additional dog walking accessories. Many additional accessories can be attached to make your experience more hands free. Carabiners can easily be clipped onto the bottom D-ring for a travel water bottle or bowl, mini flashlight, separate bag of treats and much more!
Light weight: ~ 4.5 ounces, empty, of course!
Made of durable fabric: Polyvinylchloride (PVC) and polyurethane (PU), water resistant exterior and interior lining – just like a diaper bag.
Please note that slight variations of color and pattern may occur.
Ergonomic design: folds flat for storage, travel and ease of use.
Two Separate Compartments: Small & Large
Separate areas allow for a more hygienic separation of contents
Three lines of defense to ward off odors:
1st – Self-sealing, hook & loop (Velcro) closure located outside of the bag

2nd – Mesh pocket holds a small deodorizer (auto vent, essential oil of your choice)

3rd – Additional Velcro closure located inside of the bag to help contain residual odors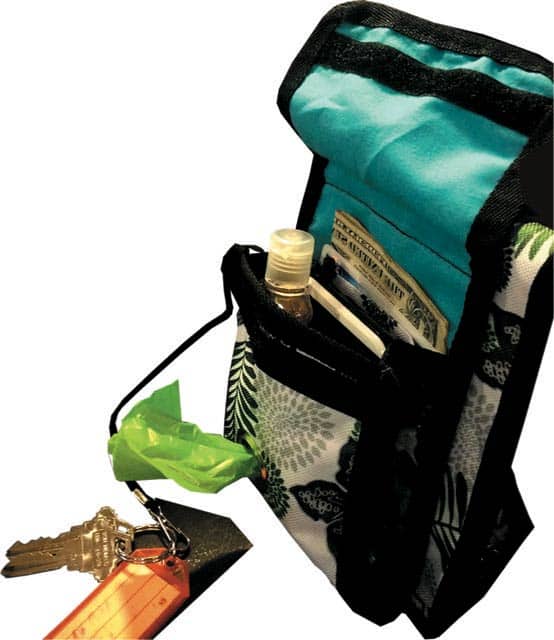 Small Compartment Holds 43.03 Cubic Inches in Volume
Holds your personal items (items in photo not included):
Easy access opening, velcro closure
Sturdy grommet hole to easily dispense plastic bags, on a roll (or single)
Slash pocket can hold cash and ID
Wide elastic band to secure other personal items
Elastic strap with for for keys
Great for carrying a small bag of treats
Dimensions: (L) 4.5″ X (H) 6.375″ X (W) 1.5″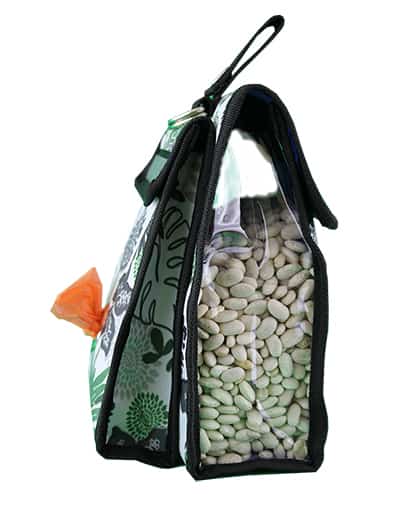 Large Compartment Holds 85.75 Cubic Inches in Volume
Holds a large volume of bagged waste
Comfort knowing it can handle 2 LBS up to 32 ounces
Compared to competitors – very few hold this amount
Dimensions: (L) 6.125″ X (H) 7″ X (W) 2″